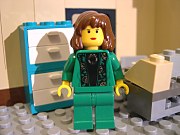 Miss Geltschilling is Ñ's secretary. She is sick and tired of constantly being hit on by James Stud whenever he reports to his superior. She has been known to secretly remove the bullets from Stud's gun when he isn't looking, in the hope it will get him killed.
Ad blocker interference detected!
Wikia is a free-to-use site that makes money from advertising. We have a modified experience for viewers using ad blockers

Wikia is not accessible if you've made further modifications. Remove the custom ad blocker rule(s) and the page will load as expected.